Delivers faster, more accurate and efficient automated tissue dissection
Eindhoven, THE NETHERLANDS, January 13 2020 – Xyall BV has been identified as a next-generation global innovator in molecular pathology, winning Series A seed investment of €5 million from investment partners Sioux Technologies, BOM Brabant Ventures, the Netherlands Enterprise Agency and other private investors. 
The latest investment into Xyall will fast track the development, manufacture and commercialization of a fully automated, high-precision tumor tissue dissection solution for global molecular pathology laboratories.
Tissue dissection remains a labor-intensive process, based on subjective analysis, at risk of error and cross contamination. Xyall aims to transform the way laboratories carry this out, by delivering higher precision, speed and sensitivity in whole slide imaging, registration and workflow optimization in combination with high precision, robotic solutions. 
Several US and European hospital laboratories have already contracted with Xyall to trial a prototype of the new automated system.  Guido du Pree, Xyall's CEO, explained: "Molecular diagnostic tests provide key clinical information to physicians to enable them to target the most appropriate treatment based on a patient's individual biology. This is especially vital when testing for cancer.
"Clinicians and lab scientists are calling for faster and more accurate tissue dissection solutions to help them deliver precision medicine. They also want an automated system which makes the most efficient use of existing staffing levels." 
Current practice involves the pathologist in pen-marking Regions of Interest (ROIs) on Hematoxylin & Eosin (H&E) stained slides. Using visual assessment, lab technicians then translate these ROIs into dissection slides, manually scraping the tissue and placing it in small containers. In addition, there is a worldwide shortage of laboratory technicians, placing workflow and sample handling pressures on clinical labs.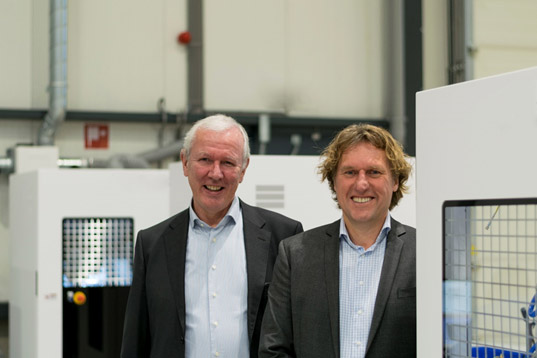 Xyall founders Hans van Wijngaarden and Guido du Pree (left to right) in the technological powerhouse at Sioux Technologies, where the first Xyall systems will be produced in early 2021.
Guido du Pree added: "My cofounder and I came up with the idea when we were active in the digital pathology space.  Customers were constantly asking if we could also automate the tissue dissection process. With the combined expertise of our strategic partners and investors, we are convinced we are creating a unique solution in both our software and bench top device."
The Director of New Business Development at Sioux Technologies, Arnoud de Geus, commented: 'The future of the medtech market is promising. Innovations in the medical field will have a major impact on our future healthcare. Digital transformation, the use of robotics, remote care, personalized care, prevention, prediction and early treatment are trends in which the high-tech sector has the opportunity to make the difference. We are proud that we can support companies like Xyall to play a significant role in bringing this about."
"Xyall is developing a technology which can help molecular pathology laboratories to improve operations and increase capacity," said Jeroen Siemes, Senior Investment Manager Medtech at BOM Brabant Ventures. "In the healthcare domain, BOM has a proactive focus on companies with the potential to have a significant impact on society. We recognize that there is a growing demand for molecular diagnostic testing, but laboratories face challenges to meet this demand. Xyall's innovative solution offers laboratories a way they can meet the ever-increasing ask."
---
Xyall
Xyall is headquartered in Eindhoven, The Netherlands, and was founded in August 2018 by Guido du Pree and Hans van Wijngaarden. They are both advocates of precision medicine and worked together at Philips Healthcare as part of the senior management team developing the company's global digital pathology business.
About Sioux Technologies
High-tech company Sioux Technologies has its headquarters in The Netherlands, with offices in Germany and China.  Its focus, together with regional and European partners (such as the Brabant Development Agency and the European Angel Fund), is to identify and then inject investment capital into the most promising technical start-ups. Their support not only speeds up the technological progress of innovative ideas but helps bring them to market far more quickly. With more than 750 engineers in-house, Sioux Technologies has the breadth of expertise to provide the technological expertise needed to maximize success. Sioux's strength lies in its unique combination of high-quality competences in software, mathware, mechatronics, electronics as well as assembly.
About BOM Brabant Ventures
The Brabant Development Agency (BOM) is funded and financed by the Dutch State and the southern province of Noord-Brabant.  It collaborates with entrepreneurs to create a strong, sustainable economy of all companies in the region. Using knowledge and capital investment, BOM uses the Brabant Ventures label to focus on the accelerated and future-proof growth of ambitious Brabant startups and scale-ups in the high-tech systems and software, agri-food, life sciences & health, maintenance, supply chain, and bio-based economy top industries.


For more information:
Guido du Pree: +31 (0)6 20444932
guido.du.pree@xyall.com